One of, if not my all-time, my favorite parts about Fall/Winter season is the array of boots that come with the cooler temperatures. Honestly, since I was a little girl in LOVE with this "special" pair of grey cowboy boots that I literally begged for for Christmas my love affair and attraction for boots...tall, short, OTK, thigh-high, stiletto, flat, lace-up, pull-on, zip up, etc...has been insatiable! And, with each turn of Autumn I long for what designers have created to feed my appetite. So, as the leaves turn and we start to polish up our walking shoes I felt that there was no better time to explore the many ways to rock our boots this year!
1. Sleek Knee-High Boots
Tuck in Skinny Jeans and Jeggings
With a sleek and simple, but sophisticated boot like this, pair them with you favorite pair of skinnies for an easy going date night, dinner with the girls or running errands. I would even pair this right-below-the-knee style with a pencil skirt and blouse for a business meeting or professional look!

2. Over-The-Knee Boots
Paired with Skinny Jeans, Shorts or Short Skirts and Tights
With the always fashionably fierce OTK(flat or stiletto) boots, you really can't go wrong with how you wear them. Pull them over a pair of skinny jeans and you have created an effortlessly glamorous look. Combine your favorite shorts from last season with a pair of opaque tights for a recycled look that is a bit edgy and sassy. Or, pull out your long-sleeve mini dress and turn heads showing a little skin!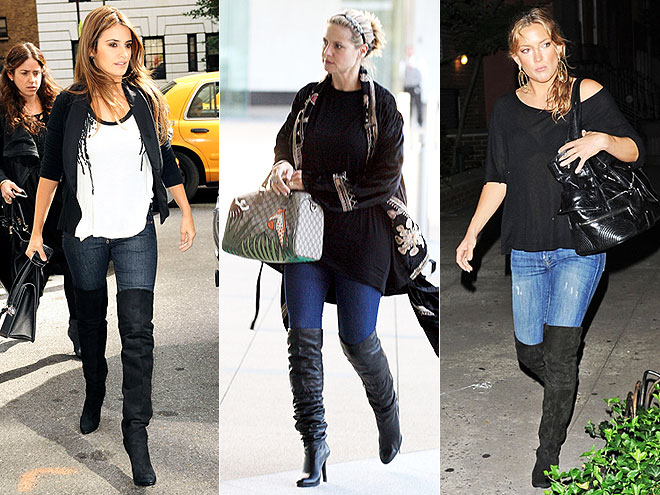 3. Slouch Boots
Long Dress/Skirt or Skinny Pants
These gorgeously designed booties need to help in being the focal point! From shorts and skirts to skinny pants and dresses, you really can't go wrong!